Join our team!
We recognise our people are at the heart of our success as a business
Here at Livingstone, we strive to succeed and encourage each other to be bold, think outside the box and promote unique ideas, working in a positive, flexible environment. We thrive within a culture that is results orientated and where everyone has the ability to contribute and make a real difference to our ongoing success across the Livingstone Group.
We commit
We are committed to each other and to delivering value to our clients. We hold ourselves accountable, taking ownership and pride in our work. We demonstrate integrity in every engagement.
We collaborate
Working as One Team, we are greater than the sum of our parts. No matter who we are or where we are located, we support each other and collaborate to drive Livingstone forward to achieve our full potential.
We innovate
We embrace change and thrive on it; we never settle for second best, we lead from the front. We are pioneers and we are not afraid to be different.
We inspire
Our business IS our people. As a team we support, energise and inspire each other to be the best. We are all committed to make Livingstone a great place to work.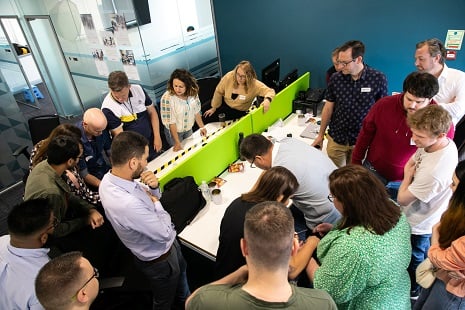 Equality, diversity & inclusion
Livingstone Group is an Equal Employment Opportunity Employer. All qualified applicants will receive consideration for employment without regard to race, colour, religion, sex, sexual orientation, gender identity, national origin, age, disability, or veteran status. If you are an individual with a disability and require reasonable accommodation to complete any part of the application process, or are limited in the ability or unable to access or use this online application process and need an alternative method of applying you may contact us at HR@livingstone-tech.com.
A leader in 2023 Gartner® Magic Quadrant™ for software asset management managed services
Our position as a Leader in the Gartner® Magic Quadrant for SAM Managed Services recognizes our Completeness of Vision and our Ability to Execute on that vision. We believe this recognition acknowledges the skills and expertise across our entire business, and our continued investment into our technology. Livingstone will continue to strive to be the best in class, globally for all our clients and partners.
What is the Livingstone Academy?
The Livingstone Academy provides incredible opportunities to progress through our career progression path within either the Delivery or Customer Success Teams, with the aim of moving from an initial data analysis or administrator role towards a customer-facing consultant or co-ordinator role in the long term.
In the academy, whatever path you choose to take, you'll be provided with full training on the fundamentals of your chosen discipline, and be given the opportunity to develop as a professional as part of an experienced team.
The Livingstone Academy is looking for driven and enthusiastic individuals to join us in learning the Livingstone way. Sounds like you?
Get in touch to find out more about the academy - HR@Livingtone-tech.com
Work with us
Fill out the form below to apply for a job at Livingstone, and we'll do our best to create the perfect position
Charlotte Hathaway
Head of People
As Head of People, we always aim to hire to our values and behaviours across the team.

We have recently reshaped our offering to enable us to build a culture around flexibility, work life balance and trust, which has been a huge factor in Livingstone empowering our key assets – OUR PEOPLE!

Come and join the team!
Bill Brandon
Product Owner
A friend referred me to Livingstone for a grad role. What drew me to the position was the chance to explore different departments and gain an understanding of the entire business, as opposed to being funnelled into one direction and to one career path.
I found myself thriving in the product team and had the support of everyone at Livingstone to explore this as a viable career path and to carve out a space for myself in an undefined position.
I've never felt boxed in, or limited in my development or opportunities at Livingstone. It's great working for a company that allows you to play to your strengths and help you grow in ways you never expected.
Robert Gamon
Senior Licensing Consultant
I joined Livingstone over 3 years ago via the grad scheme and have since progressed into the role of Licensing Consultant.
What I love about working here is the tangible value that we deliver to our customers, which makes the work we do so much more rewarding. It's a great company where you're surrounded by friendly and supportive colleagues, in turn creating a perfect environment to learn and grow as a professional.
Virginia Braun
Customer Success Director
I made the decision to join Livingstone as I saw the vision of a growing company where my talents would be utilized, the ability to grow in my career, and make an impact on the growth of the company.
When considering an employer, I consider the work/life balance and the impact the employer would have on my family, my community as well as what I can do for the company. I have a passion for the ITAM/SAM industry as I've been in the industry for over 18 years. I've been with Livingstone for over 18 months and have impacted our regional presence creating a LivingstoneOne bond that creates a healthy work community locally and virtually.
Our leadership at Livingstone is very accessible and willing to work with any level of employee through the organization. Even as a seasoned resource in the industry I still find mentorship from my colleagues very beneficial as we learn from different experiences. Livingstone is a great place to work, and I look forward to the future.
Kelsey Chambers
Customer Success Manager
Wanting to learn new skills. I have been doing customer focused work, with an emphasis on technology for several years now and was ready to take the next step in my career. When being interviewed, I focused on what could Livingstone give to me!
As an employee, having a voice and growth opportunities are critical to a great workplace. I joined Livingstone as a Customer Success Coordinator and at every turn when I asked for more opportunity, mentoring, and flexibility – I was met with a YES! This not only enabled me, but empowered me to achieve my promotion from Customer Success Coordinator, to Customer Success Manager.
I work with an incredible team, fortune 500 clients, and have actually taken a vacation for myself for the first time in years (guilt free!).