Successfully delivering Software & Cloud Lifecycle Management in complex organisations is a journey, one which needs to be carefully planned and executed if it is to deliver its full potential. By implementing a robust SLM Target Operating Model, organisations like yours can optimise their IT, avoiding unnecessary cost and risk, whilst driving value from optimised software and cloud investments.
To help organisations like yours effectively plan and deliver SLM Transformation, we have produced a comprehensive 5 step guide that provides you with a holistic approach to this transformation. Following our guide will help you gain a deep understanding of your objectives and requirements, also the important relationship between data, people, process and technology, which need to be aligned to leverage the IT investments within your organisation.
The plan will guide you through:
Setting of SMART SLM transformation objectives
Assigning effective roles & responsibilities
Mapping your existing SLM capabilities & skills gaps
Understanding your requirements based on your objectives
Building a robust Target Operating Model for SLM
Producing a clear business case aligned to your new strategy.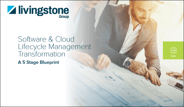 Here to support you
If you need discuss any aspect of our eBook, please contact us and we will be happy to help. We are an impartial, trusted advisor for the asset intelligence, governance and compliance needs of many of today's modern digital enterprises. Working alongside you, we provide market leading services, delivered by exceptional technology and brilliant, experienced people.
You may also like to view our on-demand webinar - A BLUEPRINT FOR SLM TRANSFORMATION

Click here to view on demand >>